Hi Everyone,
I am so excited and extremely honored to announce that the latest issue of Imagine FX Magazine features a cover story and new video tutorial by me. It was a lot of fun putting this together and the whole team over at the publication did an outstanding job. They are based in the UK so it hits news stands there today, November 7th and it should be in USA and other international book stores soon after! In my area I know it can be picked up at Barnes and Nobel bookstores. 
To celebrate I am offering a limited time 30% OFF promo code for my site. Just enter "ImagineFX" at checkout to receive 30% off your order.
Below is gallery showing the final cover and a sneak peek at the interior article. I've also included a number of alternative cover sketches that I did.
This was great fun and I hope you enjoy it!
– Aaron 
Final Cover:
Alternative Covers:
Issue Trailer:
[youtube_sc url="8YJ2ab0UXmI" width="560″ height="400″]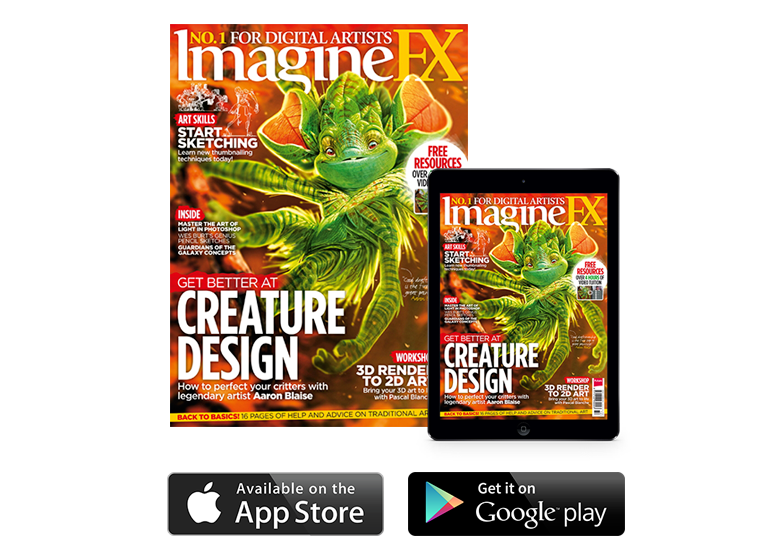 For 21 years Aaron worked with Disney helping to create some of the greatest animated films ever made. During that time he worked as an animator or supervising animator on "The Rescuers Down Under", "Beauty and the Beast", "Aladdin", "The Lion King", "Pocahontas", "Mulan" and more. In 2003 he was co-director of "Brother Bear" for which he earned an Oscar nomination for Best Animated Feature Film. After "Brother Bear" he helped to develop several projects but ultimately left Disney to pursue an opportunity back home in Florida. Aaron recently served as 2D Animation Supervisor and Character Designer for the "The Bear and the Hare" an advertisement loved by millions around the world. He is currently also working on a new animated short film, once again involving bears called "Snow Bear".