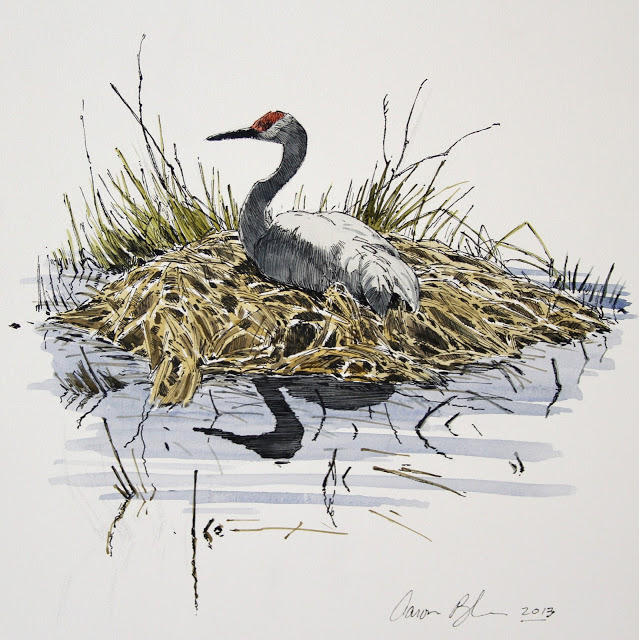 So Jonelle and I went up to Clermont in central Florida to visit with family. They live on a small lake. Just off shore right in their back yard they have a pair of Sandhill Cranes nesting. I went out on their dock and did an ink and water

color sketch of

this beautiful bird as it incubated two eggs. He or she was a wonderful model, never moving. I painted this on Aqua board which is a clay based material on board. For you artists out there, if you've never tried Aqua Board I highly recommend it. It took the watercolor beautifully and is a wonderful s

urface to paint on.

 

For 21 years Aaron worked with Disney helping to create some of the greatest animated films ever made. During that time he worked as an animator or supervising animator on "The Rescuers Down Under", "Beauty and the Beast", "Aladdin", "The Lion King", "Pocahontas", "Mulan" and more. In 2003 he was co-director of "Brother Bear" for which he earned an Oscar nomination for Best Animated Feature Film. After "Brother Bear" he helped to develop several projects but ultimately left Disney to pursue an opportunity back home in Florida. Aaron recently served as 2D Animation Supervisor and Character Designer for the "The Bear and the Hare" an advertisement loved by millions around the world. He is currently also working on a new animated short film, once again involving bears called "Snow Bear".