In  early March, I was invited to be a guest of the Ringling College of Art & Design. While there I had my very first solo art show at the madeby Gallery. It was a huge success. I sold several paintings and prints and we had a packed house. It was awesome to get to exhibit my wildlife paintings and to meet people that seemed to enjoy them so much.
[youtube_sc url="eIk5_TDh7F8″]
Before the show we did some local press and interviews to help spread the word. The gallery ran the spot below on television. 
[youtube_sc url="1ygYmIWIyNU" width="650″]
And this spot was featured on ThisWeekinSarasota
[youtube_sc url="5mqzYZO8E90″ width="650″]
I was also asked to give two lectures while I was in town. The first was a retrospective on my career entitled "Persistence of Vision". The title is meant to work on two levels.  It is a reference to the phenomenon in animation by which the human eye sees one image flowing into the next, as well as the notion of persisting in your career. It was incredibly well received.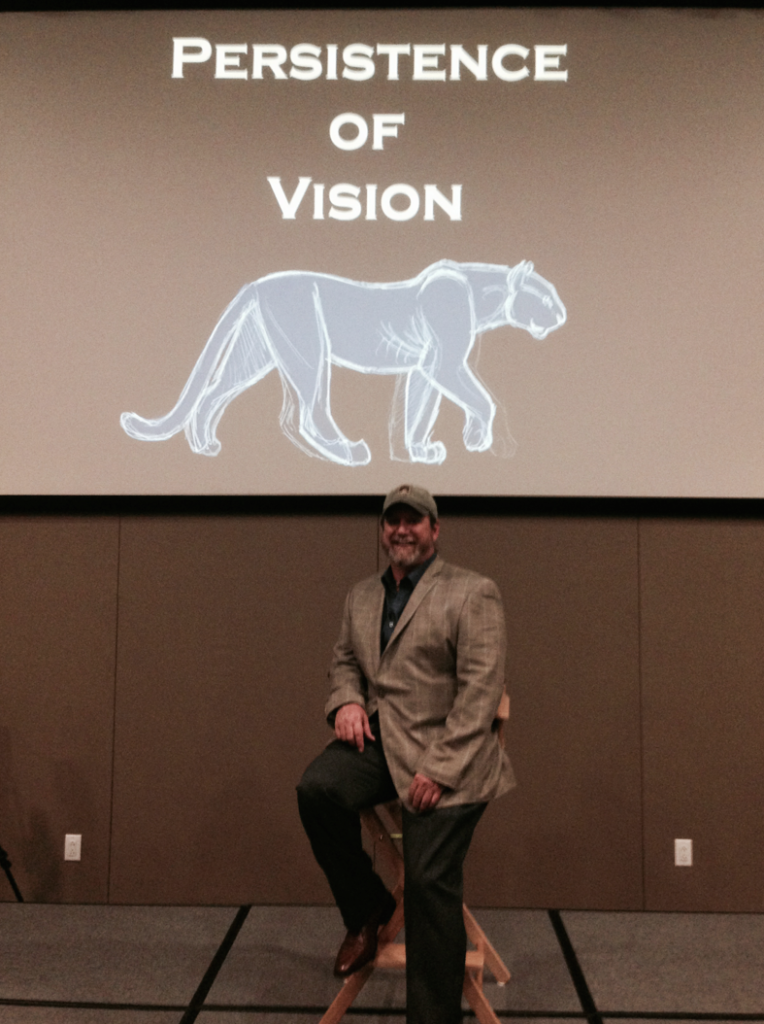 The second was a demo to D.P.S.C. which stands for "Digital Painting Sketch Club". I presented my Forest Queen Demo live in person to a packed house that was standing room only. It was awesome and they had a little illustration of me on the projectors when I walked in with music from "The Lion King" plying in the background.
 It was sincerely a pleasure to be invited to be a part of these events and a HUGE THANK YOU to everyone involved that made it possible.

For 21 years Aaron worked with Disney helping to create some of the greatest animated films ever made. During that time he worked as an animator or supervising animator on "The Rescuers Down Under", "Beauty and the Beast", "Aladdin", "The Lion King", "Pocahontas", "Mulan" and more. In 2003 he was co-director of "Brother Bear" for which he earned an Oscar nomination for Best Animated Feature Film. After "Brother Bear" he helped to develop several projects but ultimately left Disney to pursue an opportunity back home in Florida. Aaron recently served as 2D Animation Supervisor and Character Designer for the "The Bear and the Hare" an advertisement loved by millions around the world. He is currently also working on a new animated short film, once again involving bears called "Snow Bear".