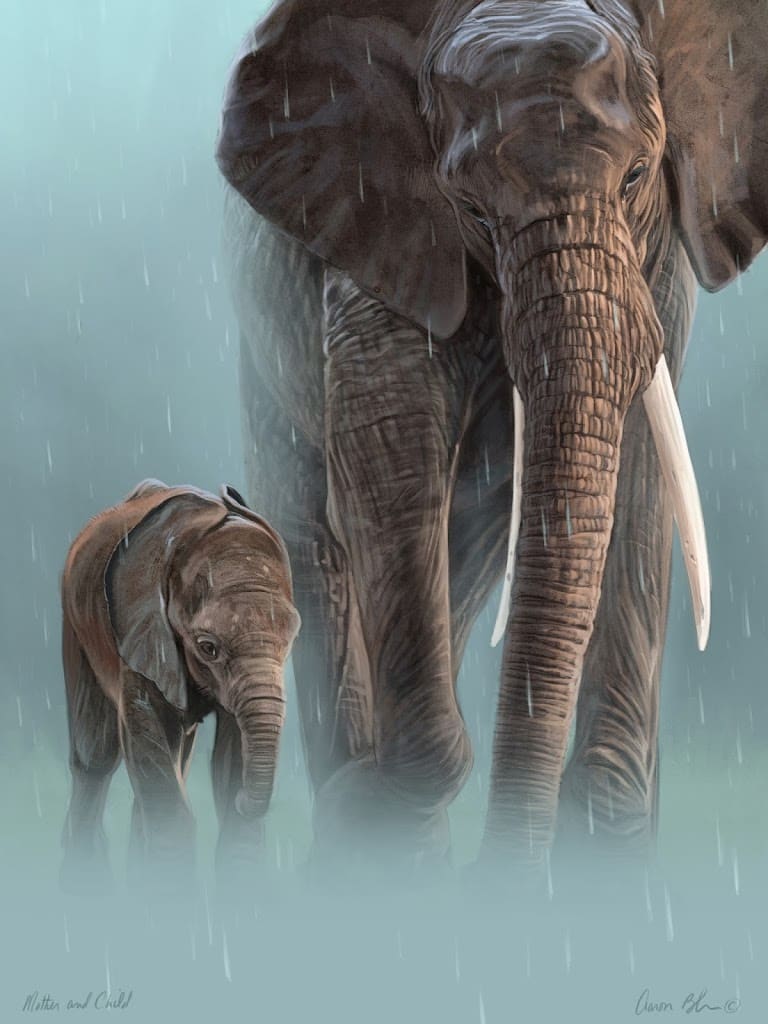 This digital painting was created from a scene I witnessed on my last trip to Kenya. It was very rainy the entire time we were out on the Masai Mara. We came across a herd of elephants one rainy afternoon and as the animals made their way through the drizzle in single file, this young mother and her calf came walking by. I was moved by how attentive she was and how the young calf clung so tightly to her side.
Prints from this painting will be available on the "Fine Art America" website. Go to the site and search my name. There you will find the prints. All proceeds from the sale of this print will go to "The David Sheldrick Wildlife Trust". This is an orphanage just outside Nairobi dedicated to the care of young elephants who have lost their mothers to poaching.

For 21 years Aaron worked with Disney helping to create some of the greatest animated films ever made. During that time he worked as an animator or supervising animator on "The Rescuers Down Under", "Beauty and the Beast", "Aladdin", "The Lion King", "Pocahontas", "Mulan" and more. In 2003 he was co-director of "Brother Bear" for which he earned an Oscar nomination for Best Animated Feature Film. After "Brother Bear" he helped to develop several projects but ultimately left Disney to pursue an opportunity back home in Florida. Aaron recently served as 2D Animation Supervisor and Character Designer for the "The Bear and the Hare" an advertisement loved by millions around the world. He is currently also working on a new animated short film, once again involving bears called "Snow Bear".