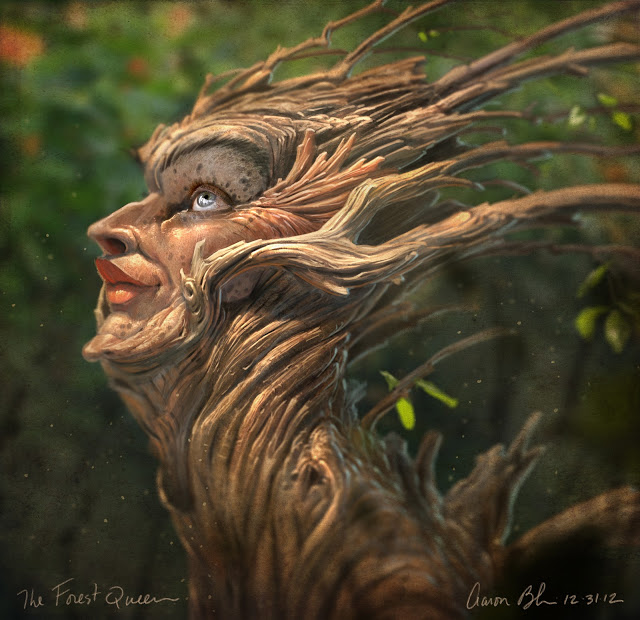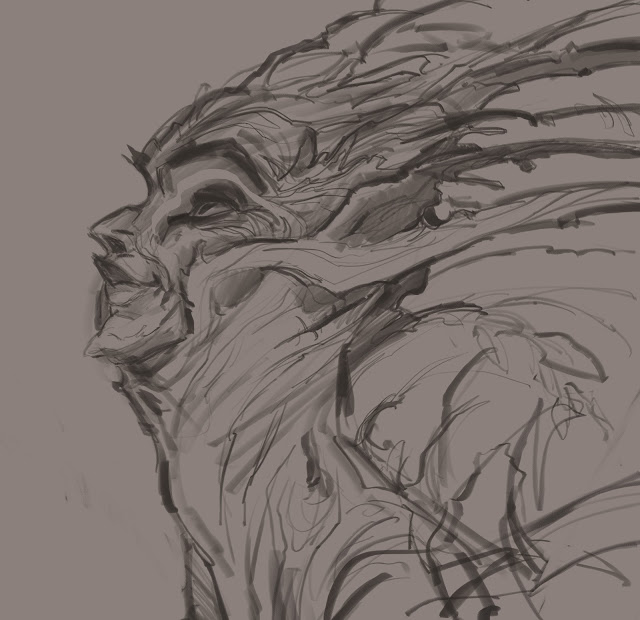 I start with my rough sketch on it's own level on a mid tone background.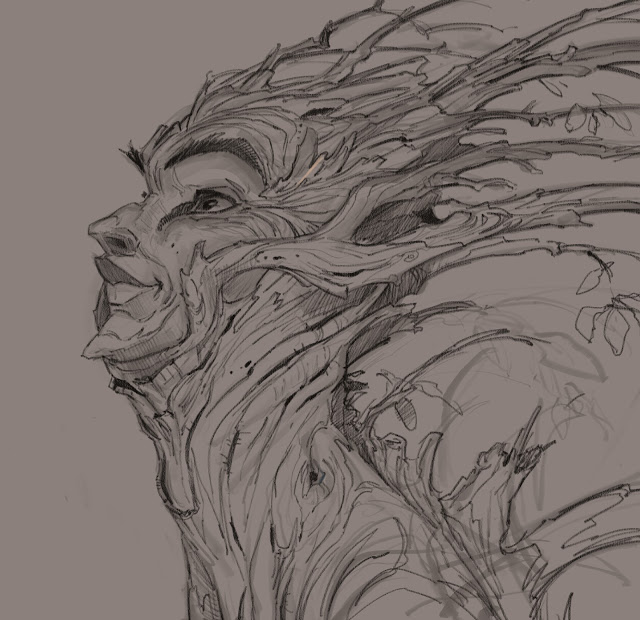 I then lighten the rough sketch, then create a new layer and refine the drawing.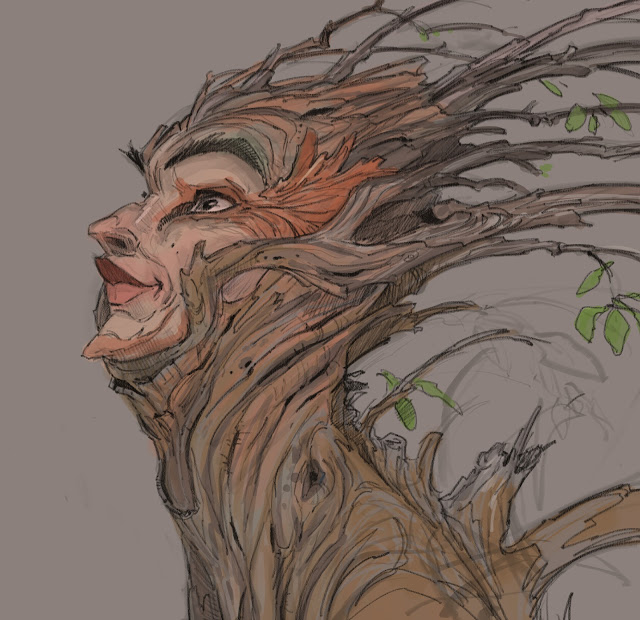 Next I create a layer under the drawing layers and lay in my local color. Local color is the color of an object in neutral lighting.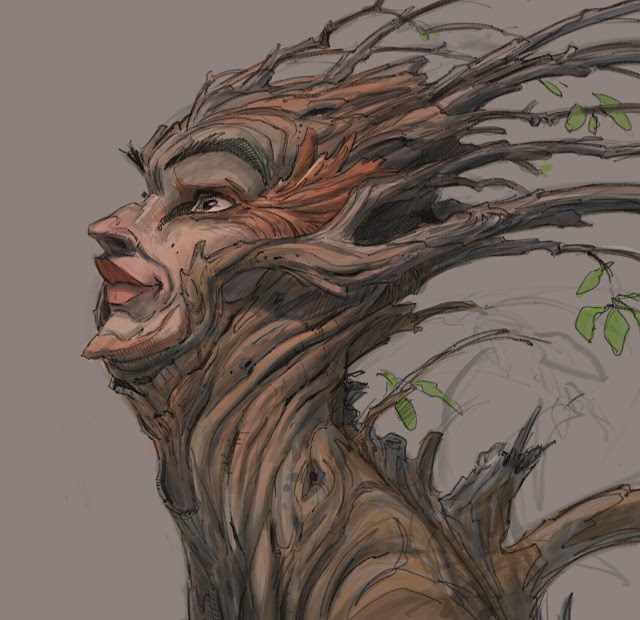 I then create a new layer on top of the local color layer but under the drawing layers. I set it to multiply, pick a cool, blue gray and begin to lay in my shadows. I imagined the light to be straight up out of frame. It's important to really think about the form at this stage.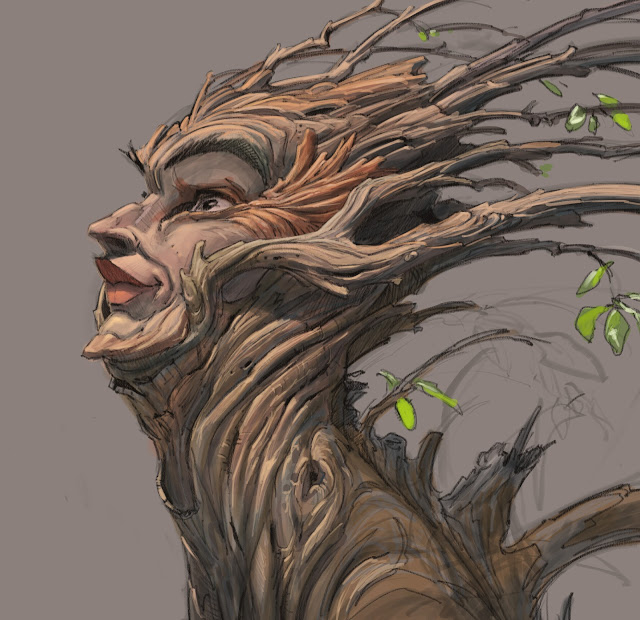 I now add a layer on top and start to lay in my light areas. I generally grab the local color with the eyedropper then lighten and warm the color for the lights.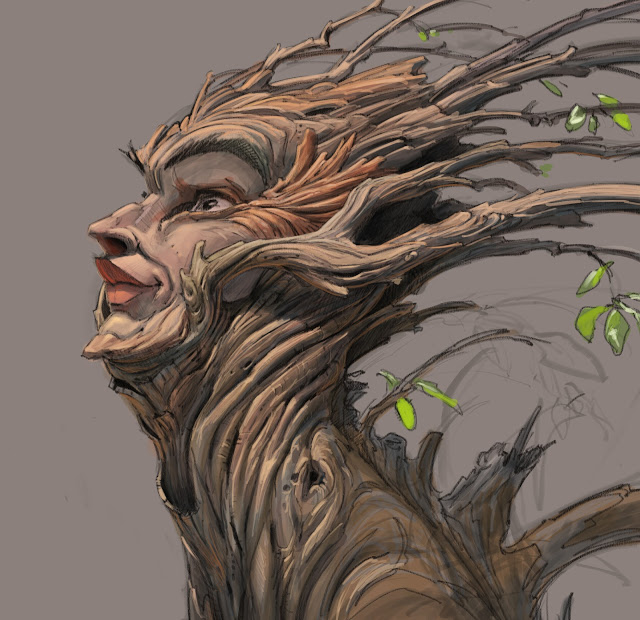 Here I create a new layer under the light layer but above the drawing layer. I set it to multiply and begin to lay in the deep darks. I'm constantly going back and forth between light and dark to let the image develop evenly. I've also added a layer of reflected light. It can be seen under the nose and some of the branches.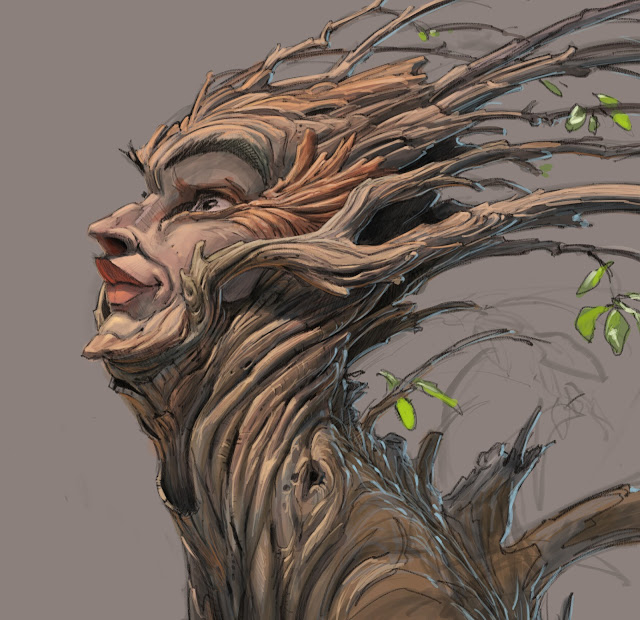 I often like to add a secondary light source. It adds interest and helps describe the form more.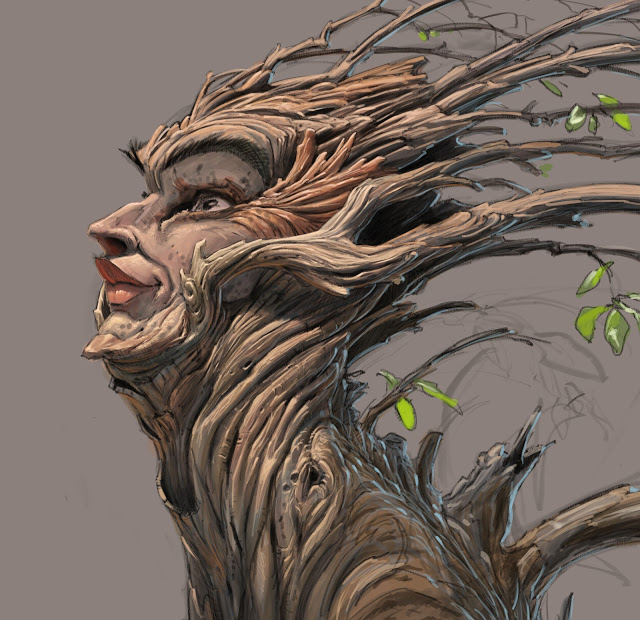 Here I've continued with my deeper darks and I've started to lay in some mottling in the skin around the eye.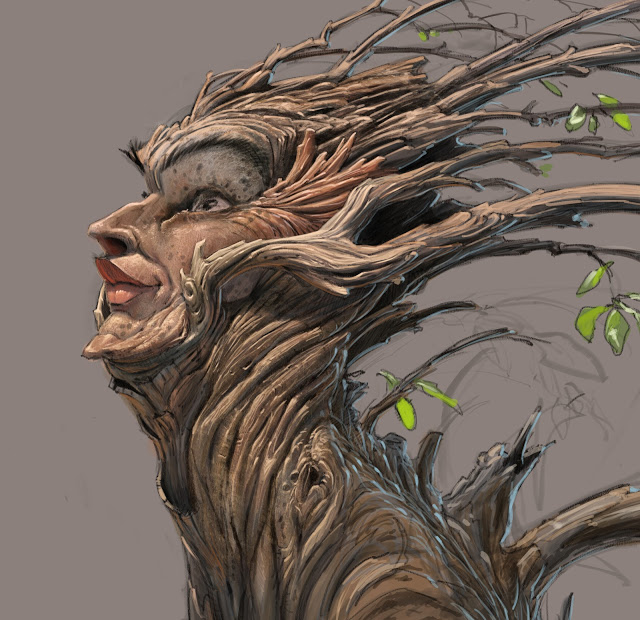 This stage is fun. I take many digital photos of my face and rough wood. I then grab sections of those photos and lay them over the painting. I drop the opacity and increase the contrast so that the painting will show through but still have the texture above it. Here you can see I've layed in the facial and wood textures. It's subtle but goes a long way. I also go back in above the texture layer and define the highlights even further.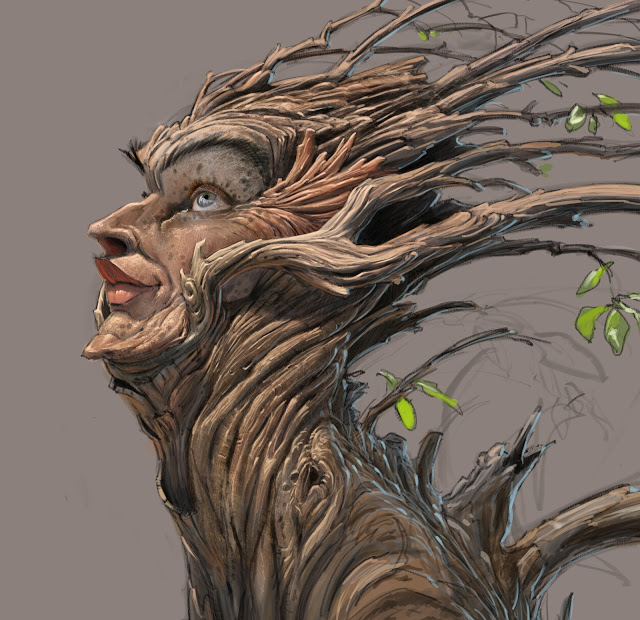 Here I've decided a wanted a very realistic eye. I took a picture of my own eye then lassoed it and dragged it over and added it to the illustration.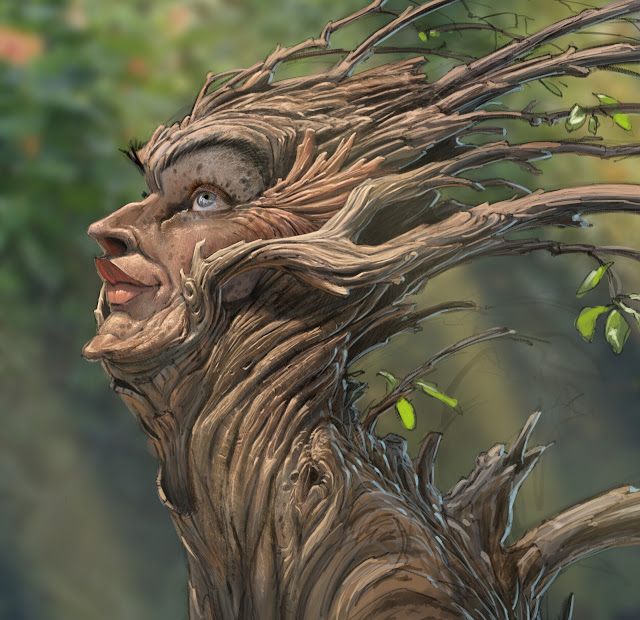 At this point I felt it was time to add a background. I grabbed a section of a photo I had in my collection of a flower garden and dragged it over and blurred it. I then added a subtle layer of light rays.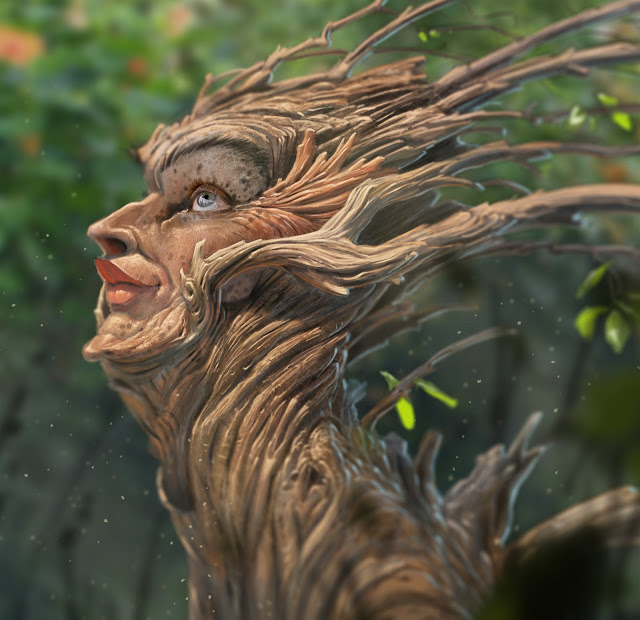 Here I've added a layer of particulate in the air and started to play with the focus. I've also added a layer of out of focus foliage in the foreground.
Next I combine all of my layers. Be sure to do this as a copy so that you can retain your original layers. Then on my combined layer I start to color dodge some of the highlight areas to give it a hotter feel.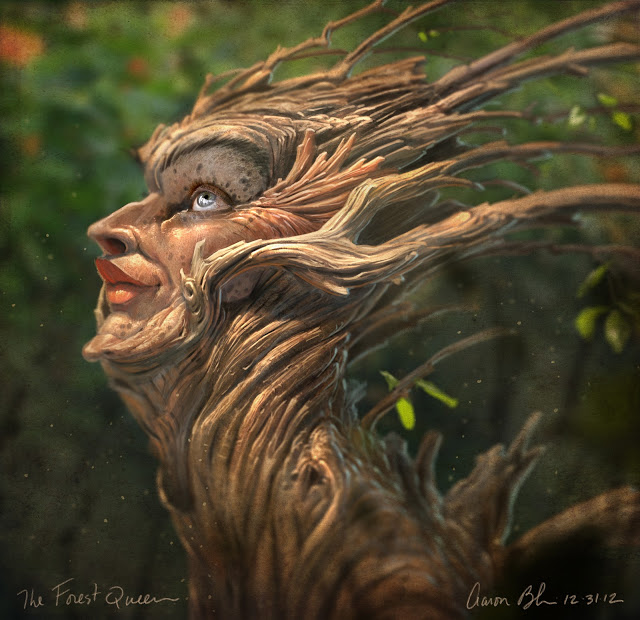 The finishing touch is adding a layer of grunge texture set to multiply. I like the feel that it gives the illustration.

For 21 years Aaron worked with Disney helping to create some of the greatest animated films ever made. During that time he worked as an animator or supervising animator on "The Rescuers Down Under", "Beauty and the Beast", "Aladdin", "The Lion King", "Pocahontas", "Mulan" and more. In 2003 he was co-director of "Brother Bear" for which he earned an Oscar nomination for Best Animated Feature Film. After "Brother Bear" he helped to develop several projects but ultimately left Disney to pursue an opportunity back home in Florida. Aaron recently served as 2D Animation Supervisor and Character Designer for the "The Bear and the Hare" an advertisement loved by millions around the world. He is currently also working on a new animated short film, once again involving bears called "Snow Bear".